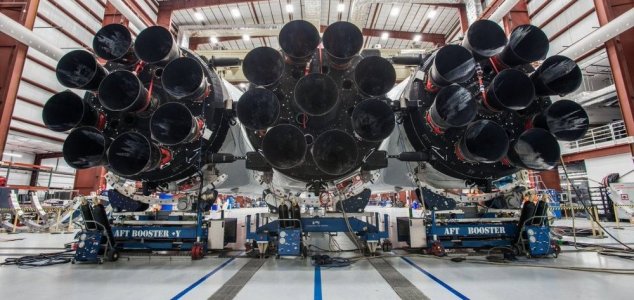 The impressive rocket is undergoing final testing.

Image Credit: SpaceX / Elon Musk
SpaceX has unveiled images of the 'world's most powerful rocket' ahead of its maiden voyage next month.
The Falcon Heavy, which consists of a strengthened Falcon 9 rocket core with two additional Falcon 9 boosters on either side, is the company's first super heavy-lift launch vehicle and will be capable of carrying payloads, not only in to orbit, but also to the Moon and even to Mars.
Like the Falcon 9, each of the boosters are reusable and will land again after each launch.
The rocket is currently undergoing final testing ahead of its inaugural launch next month which, in a peculiar move, will see Elon Musk's Tesla Roadster placed in to orbit around Mars.
There are also plans to send two tourists on a trip around the Moon before the end of next year.
Some additional images posted up on Musk's Twitter account can be viewed below.
Source: Tech Crunch | Comments (18)
Tags: Falcon Heavy, SpaceX