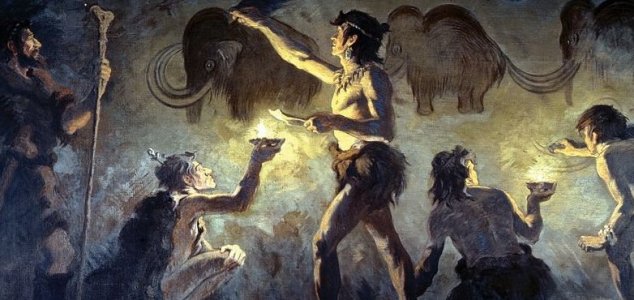 Our ancestors were adept artists.

Image Credit: Charles R. Knight
The way our ancestors hunted prey may have given them a significant advantage over the Neanderthals.
Psychologist Richard Coss from the University of California has put forward a theory suggesting that Homo sapiens gained an intellectual advantage over Neanderthals due to the way they hunted prey.
Our ancestors spent thousands of years spear-hunting fast-moving and dangerous game in Africa, whereas the Neanderthals, who lived in Eurasia, were thought to have used thrusting spears to hunt prey that was typically less dangerous and easier to catch.
Coss argues that this would have given Homo sapiens rounder skulls and bigger parietal cortexes - the part of the brain that integrates visual imagery and motor coordination.
This advantage is evidenced by the fact that our ancestors created vivid pieces of art representing animals and other figures on the walls of caves whereas the Neanderthals did not.
"Neanderthals could mentally visualize previously seen animals from working memory, but they were unable to translate those mental images effectively into the coordinated hand-movement patterns required for drawing," Coss wrote.
"Since the act of drawing enhances observational skills, perhaps these drawings were useful for conceptualizing hunts, evaluating game attentiveness, selecting vulnerable body areas as targets, and fostering group cohesiveness via spiritual ceremonies."
Source: Phys.org | Comments (4)
Similar stories based on this topic:
Tags: Neanderthals, Humans