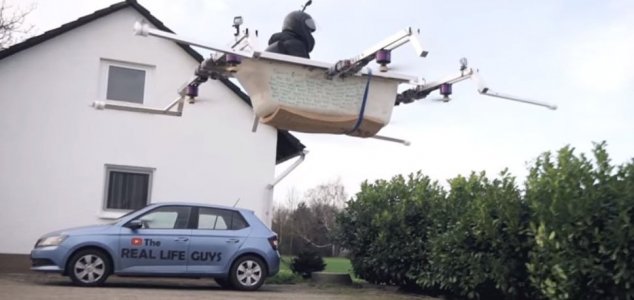 Who needs a car when you take the bathtub ?

Image Credit: YouTube / The Real Life Guys
Two brothers in Herzberg, Germany have turned an ordinary bathtub in to a flying passenger drone.
Philipp and Johannes Mickenbecker, otherwise known on YouTube as 'The Real Life Guys', are no strangers to madcap inventing having built all manner of insane contraptions over the years.
This one however - a bathtub fitted with drone rotor blades - may just about take the cake.
In a video posted recently to their channel, Philipp can be seen strapping on his helmet, getting in to the bathtub and flying across a field to the local shops to pick up some food.
The bizarre stunt proved popular with the locals who stopped to take photographs.
"Before the drone took off, people didn't believe it could actually fly," said Johannes. "When it took off, they couldn't believe their eyes. When flying outside we really had the feeling of flying, and we could, of course, fly much higher."
"The response to our video was very good - most of our subscribers did not believe that we would succeed. Most of them thought that we would break our bones."
Source: Nerdist | Comments (6)
Tags: Drone, Bathtub