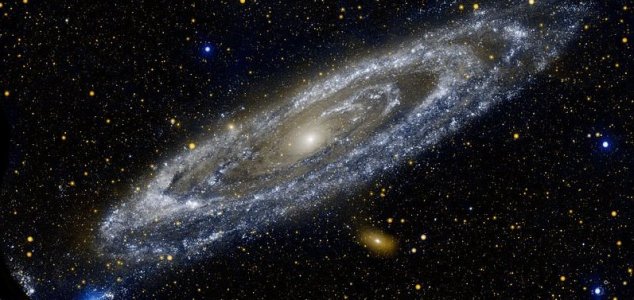 Andromeda is moving towards us at 250,000 miles per hour.

Image Credit: NASA/JPL-Caltech
It turns out that our closest neighboring galaxy is not the behemoth that scientists had previously thought it to be.
Up until now, the Andromeda galaxy was thought to be much larger than the Milky Way - a fact that could have dire consequences for our own galaxy when the two collide in a few billion years' time.
According to a new study by scientists at the International Center for Radio Astronomy Research however, the two galaxies may actually be approximately the same size.
Calculating the mass of a galaxy is no easy task, especially given that most of it is made up of black holes and dark matter as oppose to visible stars. To find the answer, the ICAR researchers used a new method based on observations of very fast stars made by the William Herschel telescope.
By determining the escape velocity of the galaxy (the speed an object would need to be traveling to escape the galaxy's orbit) and then working backwards, Andromeda's mass could be calculated.
The answer turned out to be between 800 billion and 1.2 trillion solar masses.
Source: Popular Mechanics | Comments (2)
Tags: Andromeda, Galaxy