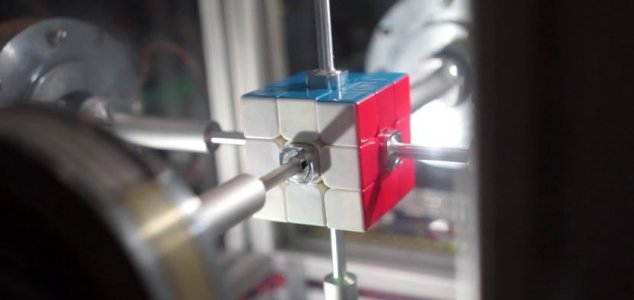 The robot can solve the puzzle obscenely fast.

Image Credit: YouTube / Ben Katz
The device is able to solve the puzzle so quickly that to the naked eye it seems almost instantaneous.
Developed by MIT robotics student Ben Katz and software developer Jared Di Carlo, the robot has beaten the previous world record of 0.63 seconds by using a different type of motor.
"We noticed that all of the fast Rubik's Cube solvers were using stepper motors and thought that we could do better if we used better motors," wrote Di Carlo.
The device uses two PlayStation Eye cameras to determine the current configuration of the cube and the individual movements each take a mere 15 milliseconds to complete.
"One counterintuitive trick for getting things to work well was to make the cube really tight," wrote Katz.
"When the cube is loose (like it would be if a person were trying to solve it fast), the outer faces just cam outwards when you try to turn the center faces quickly."
"The machine can definitely go faster, but the turning process is really time consuming since debugging needs to be done with the high speed camera, and mistakes often break the cube."
Source: BBC News | Comments (8)
Tags: Rubik's Cube