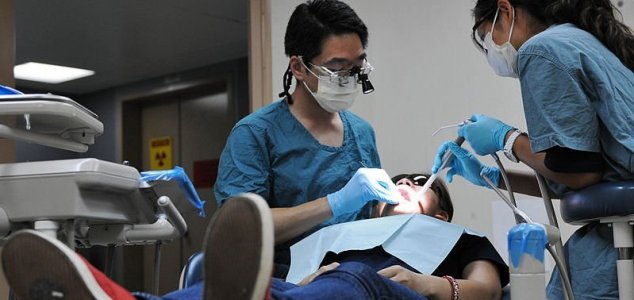 Something is inflicting dentists with a progressive lung disease.

Image Credit: US Navy
The CDC has been struggling to explain a cluster of deaths all involving dentists and dental workers.
According to a recent report, a total of nine dentists and dental technicians have been treated at a single Virginia care center over the last 16 years for a progressive lung disease known as idiopathic pulmonary fibrosis. To date, seven of them have since died as a result of the condition.
What makes this particularly unusual is the fact that this accounts for one percent of the total number of patients treated during that period - a figure 23 times higher than would normally be expected.
The patients, who were all men, may have been exposed to something at work, however the CDC has so far been unable to determine exactly what might be responsible.
"Dentists and other dental personnel have unique exposures at work," said lead study author Dr. Randall J. Nett. "These exposures include bacteria, viruses, dust, gases, radiation, and other respiratory hazards."
"At this time, we do not know what caused this cluster of idiopathic pulmonary fibrosis cases in dental personnel. More work has to be done before we can make any conclusions about the risk dentists or other dental personnel have."
In the meantime, dentists are advised to 'wear certified respiratory protection' to help reduce the risk.
Source: Tech Times | Comments (15)
Tags: Dentist