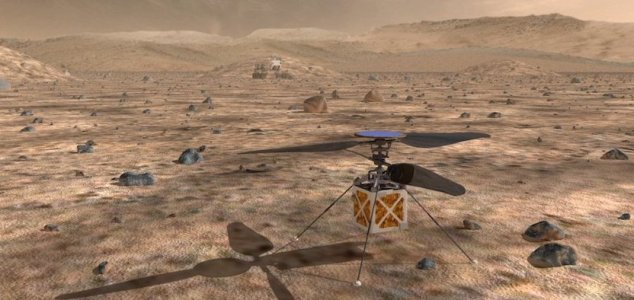 On Mars, the drone could help to scout out the surrounding terrain.

Image Credit: NASA/JPL-Caltech
NASA scientists are considering whether or not to send their lightweight robotic helicopter drone to Mars.
The drone, which has been in development at the Jet Propulsion Laboratory for several years, has been designed to operate autonomously on Mars without requiring real-time input from an operator.
Weighing 1.8kg, the device has an internal battery capable of powering flights of up two minutes at a time - enough for it to reach an altitude of around 300 meters.
Recent testing of the drone has demonstrated that it can fly in a simulated Mars environment, leading to the very real possibility of sending it there with NASA's new rover in 2020.
On the planet itself it could fly up and capture aerial images of the surrounding terrain - something never achieved on Mars before. It could also help the main rover navigate and to avoid obstacles.
According to Jim Green, head of NASA's planetary science division, the space agency is seriously considering sending the drone however there are still quite a few hurdles to overcome.
"There are two aspects of it," he said. "One is the feasibility of a technology demonstration such as what the helicopter concept is moving forward on, and the other part of it is an adequate budget to be able to execute it."
"It's going through its reviews. So far, it's doing well, but it has a couple more gates to go through before we'd actually confirm it and fly it."
Source: Spaceflight Now | Comments (9)
Tags: Mars, Drone