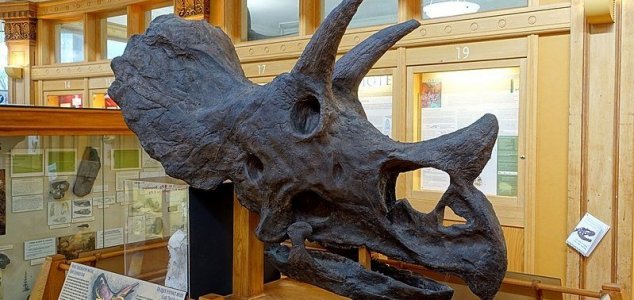 Exactly what were these horns used for ?

Image Credit: PD - Daderot
Scientists believe that dinosaurs like Triceratops may have used their horns to impress potential partners.
With their huge head-mounted horns and decorative frills, ceratopsians such as Triceratops and Styracosaurus are among some of the most recognizable species of dinosaur.
While scientists have long believed that these impressive appendages would have served as effective defensive weapons against large carnivores, more recent research has suggested that they may have instead served primarily as a way of attracting members of the opposite sex.
"Individuals are advertising their quality or genetic make-up," said lead study author Andrew Knapp. "We see that in peacocks too, with their tail feathers."
Intriguingly however, both male and female ceratopsian dinosaurs had the same frills and horns.
"It is exciting that dinosaur fossils are being examined more and more exhaustively in order to further understand their palaeobiology," said Dr Darla Zelenitsky, from the University of Calgary, Canada.
Source: BBC News | Comments (5)
Tags: Triceratops, Dinosaur