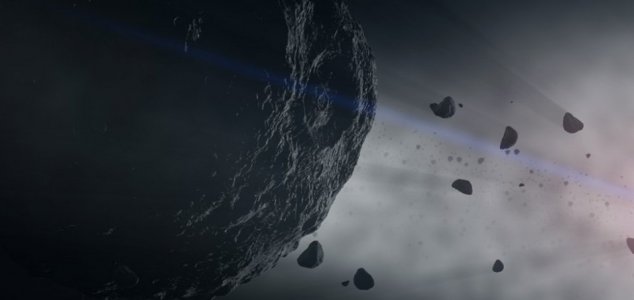 Could painting an asteroid change its trajectory ?

Image Credit: NASA Goddard Conceptual Image Lab
Rather than ramming or nuking a large space rock, scientists have suggested simply covering it in paint.
There has been a lot of talk lately about the asteroid Bennu - a 200-meter-wide space rock with a mere 1 in 2,700 chance of striking the Earth in the year 2035.
NASA has been showing a keen interest in it as well, having sent its exploratory OSIRIS-REx spacecraft to intercept it, collect a sample of material and then return it to Earth for analysis.
The space agency also recently revealed its work on HAMMER (Hypervelocity Asteroid Mitigation Mission for Emergency Response) - a spacecraft with the potential to intercept and redirect a large incoming asteroid either by ramming it or, if all else fails, by exploding a nuclear bomb.
But what if there was an easier way ? According to Michael Moreau, NASA's OSIRIS-REx Flight Dynamics System Manager, all it might take to save our planet is a fresh coat of paint.
It might sound absurd, but according to Moreau, painting one half of the asteroid a different color would be enough to change its thermal properties and alter its orbit so that it misses the Earth.
Obviously this is only something that can be done with enough advanced warning ( such as we have in the case of Bennu ), but the fact that this is even plausible at all is rather encouraging.
It's certainly a more desirable option than launching a nuclear weapon in to space.
Source: Gizmodo | Comments (13)
Similar stories based on this topic:
Tags: Asteroid, Bennu