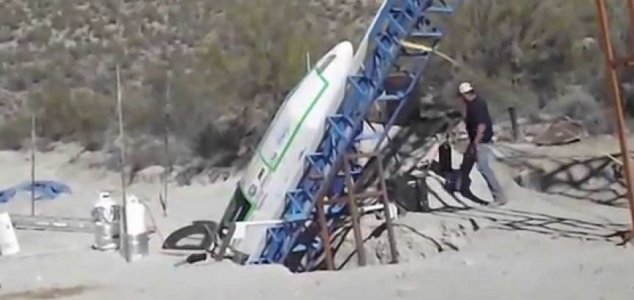 Despite its crudeness, Hughes' rocket actually worked.

Image Credit: YouTube / Mike Hughes
The self-taught rocket scientist launched himself high in to the air over the Mojave Desert on Saturday.
Hughes, who describes himself as a 'daredevil', is certainly no stranger to madcap capers having previously broken his back twice while undertaking extreme stunt jumps in cars.
On Saturday however he carried out his most dangerous stunt yet by blasting off in his homemade steam-powered rocket in a bizarre attempt to prove that the Earth is flat.
He reached a top speed of around 350mph before opening his parachute and landing with a bump.
"Am I glad I did it? Yeah. I guess," he said. "I'll feel it in the morning. I won't be able to get out of bed. At least I can go home and have dinner and see my cats tonight."
Hughes is one of a seemingly growing number of people who believe that the Earth, despite overwhelming evidence to the contrary, is actually a flat disc.
"Do I believe the Earth is shaped like a Frisbee? I believe it is," he said.
"Do I know for sure? No. That's why I want to go up in space."
Source: Sky News | Comments (35)
Tags: Mike Hughes, Rocket, Flat Earth