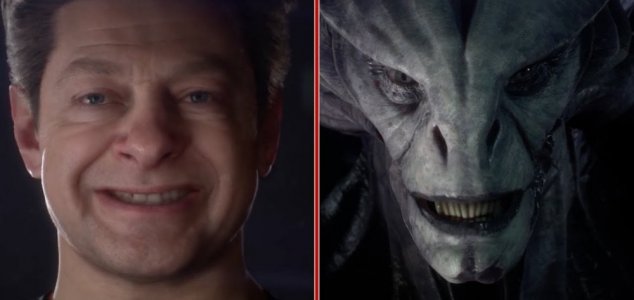 Which one is computer generated ?

Image Credit: GDC / Unreal Engine / Epic Games
This new real-time graphics demo shows off an eerily ultra-realistic computer-generated Andy Serkis.
The demo, which was unveiled at the 2018 Game Developers Conference in San Francisco last week, shows actor Andy Serkis dramatically reciting lines from Shakespeare's Macbeth.
The latest 3D graphics rendering technology is also being used to animate the alien face on the right with a precise match of Serkis' facial expressions and mouth movements.
While this may seem impressive in itself, a closer look at the video reveals that, incredibly, Serkis' face is also computer generated - the actor himself is off-screen with cameras recording his movements.
While impressively realistic computer-generated actors have appeared in movies before, what makes this demonstration different is that it is all being done in real-time as oppose to being pre-rendered.
This means that performances like this will be turning up in video games in the not-too distant future.
Source: Destructioid | Comments (6)
Tags: Graphics, Unreal, Andy Serkis