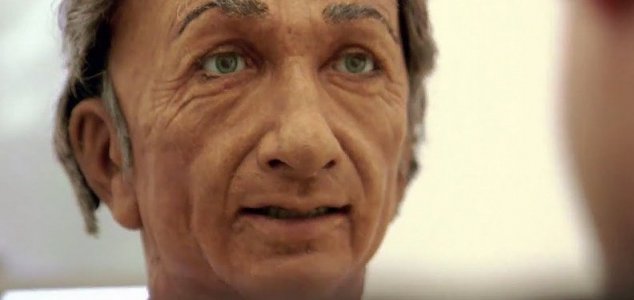 Scientists are trying to build emotionally intelligent interfaces.

Image Credit: YouTube / BBC Earth Lab
Scientists at Cambridge University have been working on an emotive human-like robot known as Charles.
Designed to look like a middle-aged man and equipped with an array of servos that enable it to move different parts of its face, the eerily life-like robot is remarkably adept at duplicating human emotions.
To accomplish this, special software first analyzes video footage of a person performing an emotion and then replicates each individual movement using the servos in place of human facial muscles.
"We've been interested in seeing if we can give computers the ability to understand social signals, to understand facial expressions, tone of voice, body posture and gesture," said Prof Peter Robinson.
"We thought it would also be interesting to see if the computer system, the machine, could actually exhibit those same characteristics , and see if people engage with it more because it is showing the sort of responses in it's facial expressions that a person would show. So we had Charles made."
Despite his sophistication however, Charles still moves in a rather awkward, robotic way.
"Our control programmes are just not quite fine enough and the monitoring of the human face we're using at the moment is just not quite good enough and so it looks unnatural," said Prof Robinson.
Source: Cambridge News | Comments (9)
Tags: Charles, Robot