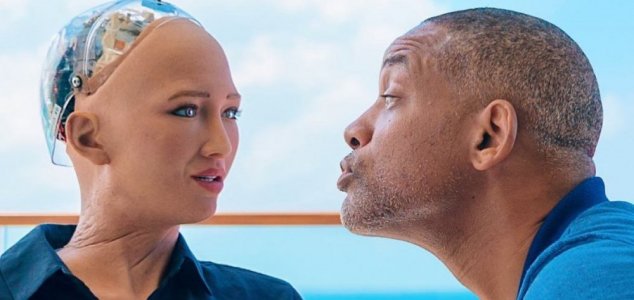 Sophia seemed less than impressed with the star.

Image Credit: YouTube / Will Smith
The Hollywood actor's unsuccessful attempts to woo the female android have been featured in a new video.
Smith is certainly no stranger to robots having previously destroyed dozens of them in the 2004 science fiction movie 'I, Robot'.
Dating a robot, however, is a different matter entirely.
In this new video that was recently uploaded on to Smith's own YouTube channel, the actor can be seen enjoying a date with Sophia on a balcony overlooking an idyllic beach on the Cayman Islands.
Despite his best efforts however, he was unable to make much progress with her.
"I resisted his smooth moves," she later wrote on Twitter.
The brainchild of Hanson Robotics CEO David Hanson, Sophia has been turning up everywhere lately.
In addition to being interviewed on numerous television shows, she has been photographed for a magazine fashion shoot and has even been granted citizenship in Saudi Arabia.
Where she will turn up next however is anyone's guess.
Source: CNET.com | Comments (5)
Tags: Will Smith, Sophia