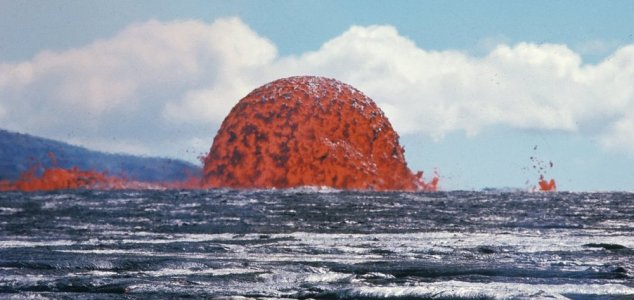 The lava fountain formed a remarkably symmetrical dome-like shape.

Image Credit: USGS
This remarkable dome of churning molten magma was photographed in Hawaii by the US Geological Survey.
The incredible spectacle, which climbed as high as 65ft over a period of three days, was captured on camera during the 5-year-long Mauna Ulu eruption of Hawaii's Kilauea Volcano back in 1969.
Lava fountains like this one occur when gas bubbles from vents, fissures and lava tubes rapidly form and cause a huge jet of lava to shoot up in to the air.
Incredibly, the largest of them can grow to over 500 meters.
"A remarkably symmetrical dome fountain occasionally 20m high but usually half that, often welled from the eastern compartment [of the vents] for periods of several hours," the researchers wrote.
"Most of the lava from this fountain flowed away from the vent, but some formed a narrow river that poured back into the western compartment."
"Every few seconds, gases burst explosively from the western compartment, carrying spatter possibly derived from the lava drainback."
Source: Science Alert | Comments (6)
Tags: Hawaii, Lava