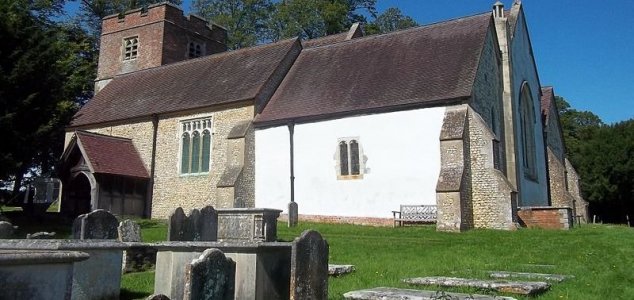 The church and cemetery during the day.

Image Credit: CC BY-SA 3.0 Simon Burchell
A paranormal investigator has captured intriguing footage of a fast-moving mist flying towards him.
Tony Ferguson had been investigating reports of a 'negative presence' in the cemetery at St Mary's Church in Hampshire, England when he captured the anomaly on film (viewable below).
"I don't usually investigate cemeteries," he said. "I don't believe that just because people are buried there, they must be haunted."
"But a few people got in touch to tell me they were concerned about their loved ones who are buried there. Every time they went they could feel this negative presence and it was making them very uncomfortable."
During his visit, the 33-year-old claimed that he had felt 'unwanted' and reported hearing an audible 'whooshing' sound that he has since attributed to the mist in the video.
But did he really capture evidence of a ghost ?
While the footage certainly does appear to show something mist-like moving towards the camera, it could be argued that cigarette smoke (or even another person's breath if it was a cold night) could have created a similar effect if someone else happened to be there at the time.
Tony however remains adamant that it was something paranormal.
"He is clearly a very controlling spirit and doesn't want people visiting the graveyard," he said.
Source: Yahoo! News | Comments (49)
Similar stories based on this topic:
Tags: Ghost, Graveyard