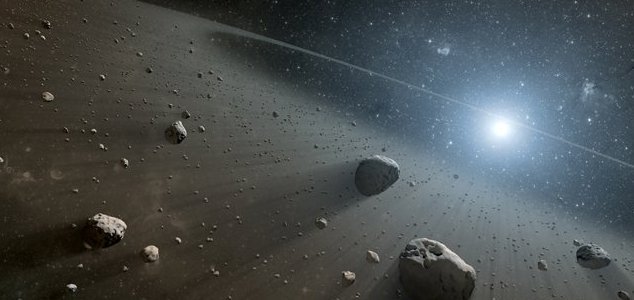 The asteroid is left over from the solar system's formation.

Image Credit: NASA/JPL-Caltech
An asteroid from the earliest days of the solar system has been found four billion kilometers from Earth.
Interest in the distant space rock was first piqued by Queen's University Belfast astronomer Dr Wesley Fraser who had been carrying out routine observations using the Hubble Space Telescope.
He noticed that the asteroid's 'reflectance spectrum' was different to that of neighboring objects.
"It looked enough of a weirdo for us to take a closer look," he said.
Further observations using the European Southern Observatory's Very Large Telescope later revealed that the asteroid was made of carbon, meaning that it had come from the inner solar system.
The presence of ferric oxides and phyllosilicates also seemed to confirm the discovery.
Scientists now believe that the space rock was flung out from the asteroid belt between Mars and Jupiter by one of the gas giants as it migrated through the solar system billions of years ago.
"While there have been previous reports of other 'atypical' Kuiper Belt Object spectra, none were confirmed to this level of quality," said ESO astronomer Dr Olivier Hainaut.
"The discovery of a carbonaceous asteroid in the Kuiper Belt is a key verification of one of the fundamental predictions of dynamical models of the early solar system."
Source: Independent | Comments (0)
Similar stories based on this topic:
Tags: Asteroid