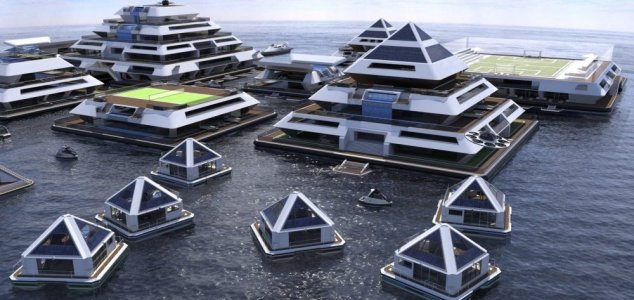 Several floating structures can be combined to form cities.

Image Credit: YouTube / Lazzarini Design Studio
Italian architecture firm Lazzarini Design Studio is looking to construct entire neighborhoods that float in the ocean.
The concept, which aims to solve the problem of rising sea levels due to climate change, centers around the idea of building self-sustaining homes that float freely on the ocean's surface.
Powered by solar energy, these pyramid-shaped residences can be grouped together to form whole cities complete with shopping malls, tennis courts and other facilities.
Although the idea is still in the planning stages, the firm has launched a crowdfunding campaign to raise the $420,000 needed to build the first pyramid.
The long-term goal will be to construct a whole city off the coast of the United Arab Emirates or Italy and investors will be given the opportunity to become its first official 'citizens'.
How such a city would deal with storms and hurricanes however remains unclear.
A video detailing what the finished city might look like can be viewed below.
Source: Business Insider | Comments (5)
Tags: Floating City