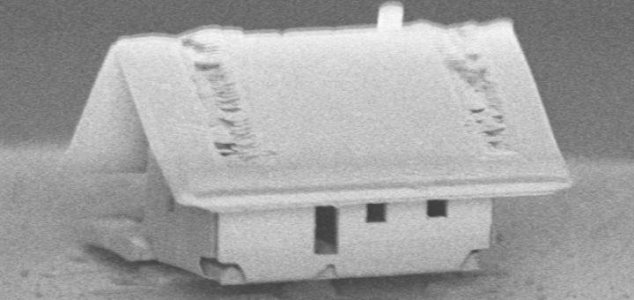 The house was constructed in a 300-by-300-micrometer area.

Image Credit: FEMTO-ST Institute
Scientists in France have created a house so small that not even a mite would be able to fit through the door.
The nanoscopic construction was created as a proof-of-concept by a nanorobotics team at the Femto-ST Institute in Besancon, France using a microbotics system known as the µRobotex nanofactor.
The microhouse was put together using ion guns (via gas injection), electron beams and a number of finely-controlled tiny robots within a large vacuum chamber at the facility.
First, a layer of silica was laid down on the tip of a cut optical fiber that measured less than the width of a human hair. The ion beam was then used to cut out the shape of the walls and windows.
By cutting and scoring in exactly the right places, just enough force was created to cause the walls to fold upwards to form the shape of the house.
The gas injection system was then used to fix the pieces together.
The team is now hoping to create an even smaller object that can fit through one of the windows.
Source: Digital Journal | Comments (6)
Similar stories based on this topic:
Tags: House, Nanotechnology