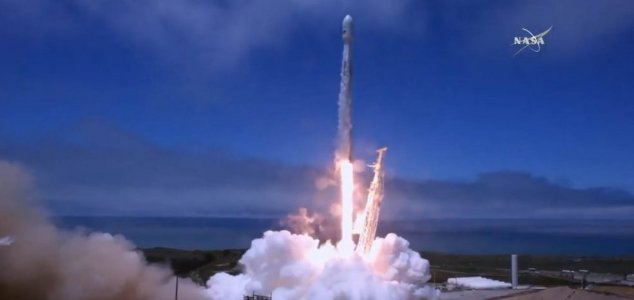 The two satellites were blasted in to orbit on Tuesday.

Image Credit: NASA
The launch of two new satellites in to orbit will enable scientists to study the evolution of our planet's climate.
Known as the Gravity Recovery and Climate Experiment Follow-On Mission (Grace-FO), the two satellites were launched from Vandenberg Air Force base aboard a SpaceX rocket on Tuesday.
As they orbit the Earth, their instruments will look for tiny variations in the planet's gravitational pull due to movements in mass. Such readings may be picked up when the land swells due to an extended period of rain, or as polar ice melts and drains in to the ocean due to global warming.
To obtain the readings, the lead spacecraft will drag through the Earth's gravitational field while the second follows 220km behind, measuring changes in their separation to the nearest micron.
"That is about a tenth of the width of a human hair over the distance between Los Angeles and San Diego," said project manager Professor Frank Flechtner.
Monitoring sea-level rise due to climate change will be one of the mission's main objectives.
"Mass loss from the ice sheets is an increasing contribution to total sea-level rise and, even though the poles are remote, this mass loss will have large impacts all around the world," said Prof Helen Fricker.
"With the launch of Grace-FO, we can now continue to detect changes in the ice mass, to determine the extent to which ice is being lost, and find out if there has been any acceleration."
Source: BBC News | Comments (1)
Tags: Grace, Satellite