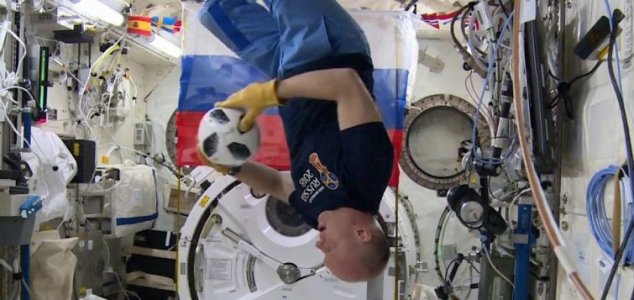 Is zero-gravity football the sport of the future ?

Image Credit: NASA / Roscosmos
Anton Shkaplerov and Oleg Artemyev demonstrated their football skills ahead of the FIFA World Cup in Russia.
They may be orbiting 400km above the surface of the Earth, but that didn't stop the football-mad pair from celebrating the upcoming event which is set to begin on June 14th in their home country.
In a clip released by the Russian space agency Roscosmos, Artemyev, who is sporting an official FIFA World Cup Russia 2018 T-shirt, can be seen setting up a makeshift goalpost aboard the station.
He and Shkaplerov then do their best to kick and throw a football around in zero-gravity.
The ball used in the video was specially flown up to the space station for the stunt and will be returned to the Earth alongside the two cosmonauts aboard a Soyuz capsule on June 3rd.
Source: Russia Today | Comments (15)
Similar stories based on this topic:
Tags: Football, ISS