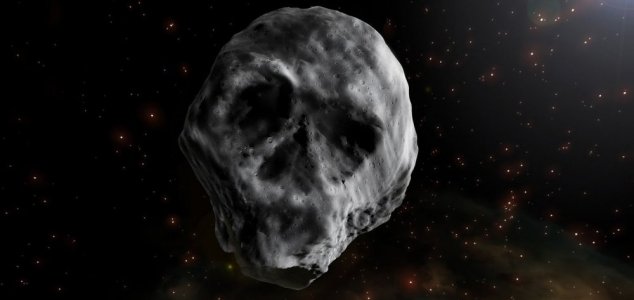 A computer reconstruction of the asteroid's skull-like shape.

Image Credit: J. A. Penas / SINC
The unusually-shaped space rock made headlines back in 2015 when it passed the Earth on October 31st.
Known as 2015 TB145, the asteroid is thought to be up to 2296ft wide and was discovered three years ago when it passed the Earth on Halloween at a distance of around 1.3 times that of the Moon.
Its spooky reputation stems from a grainy black-and-white image taken by the Green Bank Telescope in West Virginia which shows its distinctive 'eye sockets' and skull-like shape.
While it will unfortunately miss the Halloween season this year, astronomers have noted that it will be returning for another pass - albeit during November rather than October.
When it does, it will be much further out - approximately 103 times the distance of the Moon - however there is hope that astronomers may still be able to take photographs of it as it passes by.
"We found that the object reflects about 6 percent of the light it receives from the Sun," said research scientist Vishnu Reddy from the Planetary Science Institute in Tucson, Arizona.
"That is similar to fresh asphalt, and while here on Earth we think that is pretty dark, it is brighter than a typical comet which reflects only 3 to 5 percent of the light. That suggests it could be cometary in origin - but as there is no coma evident, the conclusion is it is a dead comet."
Sadly though, the asteroid won't pass us by on Halloween again until the year 2088.
Source: SlashGear | Comments (1)
Similar stories based on this topic:
Tags: Skull, Asteroid