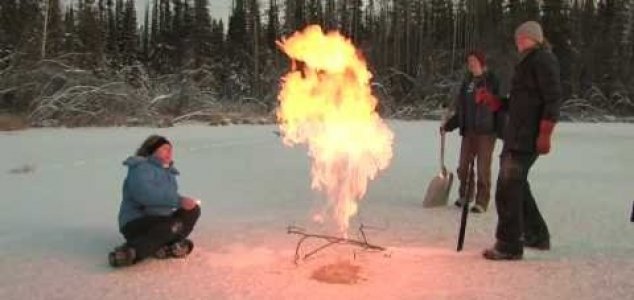 The methane is highly flammable.

Image Credit: YouTube / University of Alaska Fairbanks
Esieh Lake in northern Alaska is releasing so much trapped methane that you can literally set the air ablaze.
The lake, which can be heard bubbling and hissing as the gas slowly seeps out from beneath the snow and ice, has been the subject of a decade-long study led by aquatic ecosystem ecologist Katey Walter Anthony from the University of Alaska Fairbanks.
Back in 2010, she became the unwitting host of a viral video showing a team of scientists poking holes in the ice and setting fire to the gas (viewable below).
The explanation for this strange phenomenon, it turns out, is that a large amount of methane gas trapped in the permafrost is being released as the ice melts, creating holes in the lake bed.
The gas then creates bubbles which rise to the surface and escape in to the atmosphere.
During the winter when the lake is frozen over, the bubbles become trapped but can be selectively released and burnt off by creating holes in the surface and setting the escaping gas on fire.
While the phenomenon might seem harmless enough, the fact that this is happening at all is indicative of a larger problem that could lead to a runaway global warming effect in the not-too-distant future.
Source: Live Science | Comments (8)
Tags: Methane, Esieh