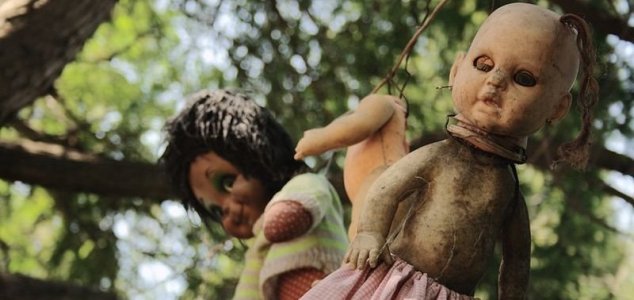 Dolls can be creepy at the best of times.

Image Credit: CC BY 2.0 Esparta Palma
A woman in Peru has claimed that her possessed doll moves on its own and is prone to bouts of violence.
The bizarre story was reported locally after the woman, whose name is Berliz, insisted that her boyfriend had left her after the deranged doll 'beat him up' while he was sleeping.
Named Deisy, the doll has allegedly been responsible for a whole host of unexplained occurrences ranging from sightings of strange shadows to physical disturbances and phantom injuries.
"One day, a bright light suddenly shone and my bible fell down from the TV," said Berliz. "I started to cry and the light turned off and I saw shadows all around me."
"I was only 18, and my dad hugged me and when the light came on my face was covered with cuts."
According to reports, the nefarious doll, which she originally received as a Christmas present, has attacked, not only her boyfriend, but also her cousin.
She is now desperate to keep it away from the house so that it can't hurt her newborn baby.
Since appearing online, the story has been met with a rather understandable degree of skepticism with some social media users likening the doll to Chucky - the antagonist of the
Child's Play
movies.
To date, none of the phenomena attributed to Deisy have ever been independently verified.
Source: Standard Media | Comments (47)
Similar stories based on this topic:
Tags: Doll, Possession