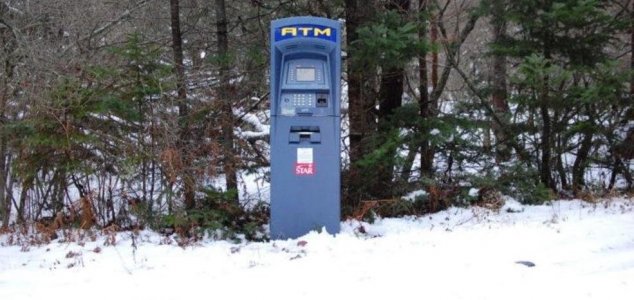 The ATM was set up in the middle of nowhere.

Image Credit: Hancock County Sheriffs Office
Authorities in Maine were left perplexed recently when an ATM machine was found miles from anywhere.
The peculiar discovery was made earlier this month by a woman who had been out on her morning walk along Dexter Farm Road in North Deer Isle.
Detective Steve McFarland of Hancock County Sheriff's Office arrived shortly afterwards to investigate. He noted that there had been no reports of stolen ATM machines in the area.
What made the find particularly unusual, aside from its remote location, was the fact that there was no evidence to suggest that anyone had tampered with the machine to gain access to the cash inside.
"Usually they are just thrown out into the woods, ripped open and smashed to pieces," said McFarland. "If you wanted the cash out of it, you certainly would have ripped it open."
"It was set up like a hunter might need quick cash for a cup of coffee in the middle of the woods."
It later turned out that the ATM machine had not been stolen but had instead been retrieved from a dumpster and placed in the middle of the woods by a local woman as a prank on her neighbors.
It is unlikely that she will be charged over the incident.
"I could charge them with littering, but I doubt it. I don't think I would do that," said McFarland. "I would probably want the owner to come get it and dispose of it more appropriately."
Source: Inquisitr.com | Comments (6)
Tags: ATM Machine, Maine