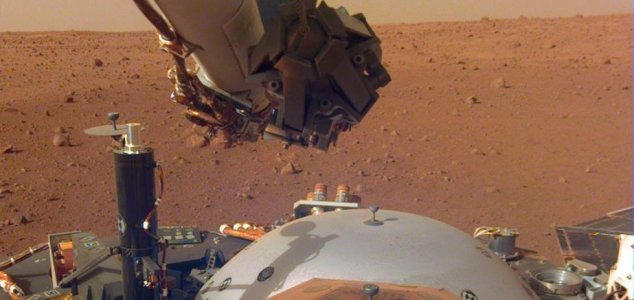 The audio is decidedly eerie.

Image Credit: NASA / JPL-Caltech
NASA has released the first ever recording of the wind buffeting a spacecraft on the surface of Mars.
While photographs taken on the Red Planet have helped us to build up a picture of what it might be like to stand on the surface of another world, there has always been one thing missing - sound.
Now NASA has posted up an audio clip recorded on December 1st of the InSight probe's seismometer and air pressure sensor vibrating as the Martian wind blew across them at the landing site.
The recording begins at 00:35 in the video, but will require headphones and a subwoofer to hear properly. A processed and more audible version of the sound can also be heard at 00:58.
"The seismometer readings are in the range of human hearing, but are nearly all bass and difficult to hear on laptop speakers and mobile devices," the caption reads. "We provide the original audio and a version pitched up by two octaves to make them audible on mobile devices."
Source: Newsweek.com | Comments (6)
Similar stories based on this topic:
Tags: InSight, Mars