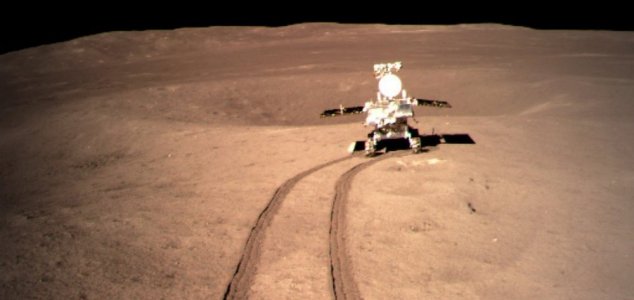 Yutu 2 has officially begun to explore the lunar surface.

Image Credit: CNSA
The roving exploratory vehicle landed on the Moon as part of China's Chang'e 4 mission earlier this month.
Situated within the 2,500km-wide South Pole-Aitken basin, the Chinese lander and rover are the first ever to touch down on the unexplored far side of the Moon which always points away from the Earth.
A newly released image (see above) shows Yutu 2 sitting on the lunar surface after having trundled down its exit ramp and a few meters across the soil, leaving two distinctive wheel tracks behind it.
The rover is designed to operate for at least three months. It is equipped with a panoramic camera, a ground penetrating radar system, a spectrometer and an energetic neutral atom analyzer.
Some new photographs taken by Queqiao (the relay satellite) can also be viewed below.
Source: Space.com | Comments (37)
Tags: China, Moon