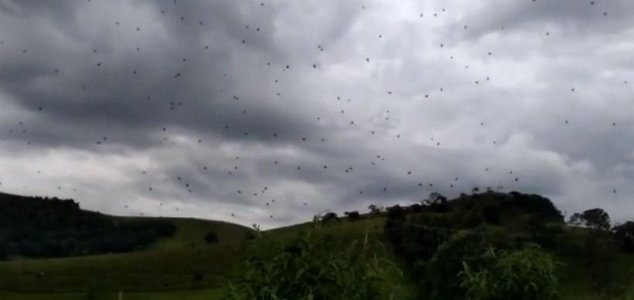 As if spiders on the ground weren't bad enough...

Image Credit: Facebook / Cecilia Juninho Fonseca
The eerie phenomenon, which can occur during hot, humid weather, is an arachnophobe's worst nightmare.
For anyone who is terrified of spiders, Brazil can be a stressful place to visit at the best of times.
In this latest footage however, hundreds of spiders can be seen, not on the ground, but above it.
The deeply unnerving spectacle was filmed by Joao Pedro Martinelli Fonseca who had been traveling with his family to visit his grandparents' farm around 250km north-east of Sao Paulo.
He described being "stunned and scared" after noticing that the sky was full of tiny black dots.
"There were many more webs and spiders than you can see in the video," said his grandmother. "We've seen this before, always at dusk on days when it's been really hot."
According to experts, the species -
parawixia bistriata
- is a rare type of 'social' spider that builds a huge interconnected web so thin that it's almost impossible to see against the sky.
The result is a colony of arachnids that appear to be floating in mid-air.
Source: The Guardian | Comments (19)
Similar stories based on this topic:
Tags: Spider, Brazil