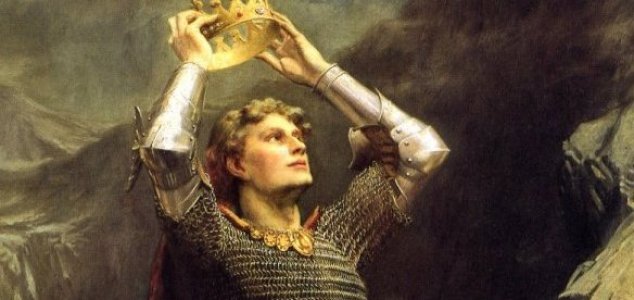 The fragments describe a different version of a famous King Arthur story.

Image Credit: Charles Ernest Butler
The seven hand-written parchment fragments were found in the archives of Bristol's central library.
While the story of King Arthur, the Knights of the Round Table and their adventures in Camelot have been familiar themes in movies, books and television shows for years, the historical origins of the legend and the real-life events on which it is based have long remained a topic of academic debate.
Now though, one more piece of the puzzle has been unexpectedly unearthed in an archive in Bristol.
According to researchers, the parchment fragments, which are written in Old French and tell the story of the Battle of Trebes, were found inside an unrelated volume by a 15th-century French scholar.
It is believed that this particular version of the story, which describes how Merlin rallied the troops while wielding a magical dragon standard that breathed fire, may have served as a source for Sir Thomas Malory's famous 1485 reworking of Arthurian legend -
Le Morte D'Arthur
.
"Time and research will reveal what further secrets about the legends of Arthur, Merlin and the Holy Grail these fragments might hold," said Dr Leah Tether of the International Arthurian Society.
"The south-west of England and Wales are, of course, closely bound up with the many locations made famous by the Arthurian legend, so it is all the more special to find an early fragment of the legend - one pre-dating any version written in English - here in Bristol."
Source: Independent | Comments (13)
Tags: Merlin, King Arthur