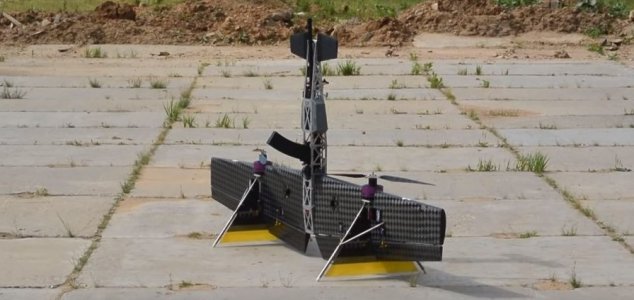 This is one terrifying piece of equipment.

Image Credit: YouTube / S B
A weaponized drone designed to intercept and shoot down enemy drones has been developed in Russia.
The unnerving contraption, which has been patented by Russian defense contractor Almaz Antey, was put together by a team at the Moscow Aviation Institute.
The drone is an adaptation of the type of unmanned aerial vehicle used by mining companies to survey pipelines and is capable of flying around like a small plane for up to 40 minutes at a time.
The one big difference is its fully-automatic Vepr-12 shotgun and 10-round magazine.
According to reports, the drone is controlled by an operator wearing a special visor who sees a live video feed from the front of the device. Its designers decided to opt for a shotgun rather than a pistol or rifle due to the fact that the wider dispersal pattern makes enemy targets easier to hit.
Although the drone is not currently in active service, its mere existence demonstrates that Russia is pretty serious about securing its airspace against encroaching enemy drones.
Suffice to say, this is definitely not something that you'd ever want to see flying in your direction.
Source: Engadget | Comments (7)
Similar stories based on this topic:
Tags: Russia, Drone