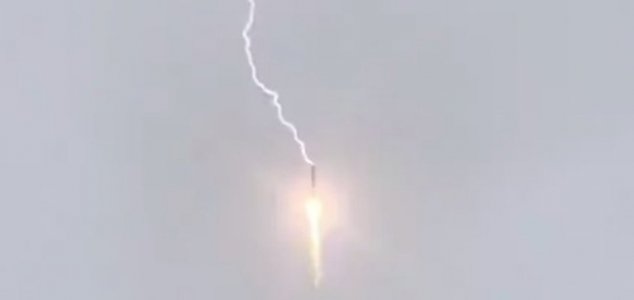 Lightning has the potential to take down a rocket.

Image Credit: YouTube / VideoFromSpace
Footage of a recent Soyuz launch shows the harrowing moment the rocket was hit by a bolt from the blue.
The incident occurred mere seconds after the rocket, which was carrying a Glonass navigation satellite in to orbit, lifted off from the Plesetsk Cosmodrome in Northern Russia last Monday.
Rockets have a tendency to generate lightning when flying through thick clouds or thunderstorms, sometimes with devastating consequences.
In 1987, a bolt of lightning hit an Atlas-Centaur rocket during launch, causing its guidance systems to fail and resulting in its destruction along with the US Navy satellite it was carrying.
Even the Apollo 12 Saturn V rocket was struck by lightning during lift-off, knocking the command module's fuel cells offline and messing up the instrumentation.
Fortunately in that case the mission was able to continue, but things could have been very different.
As luck would have it, last week's Soyuz launch also managed to survive being hit and its payload has since been successfully deployed with no problems reported.
Source: Spaceflight Now | Comments (5)
Similar stories based on this topic:
Tags: Soyuz, Rocket, Lightning