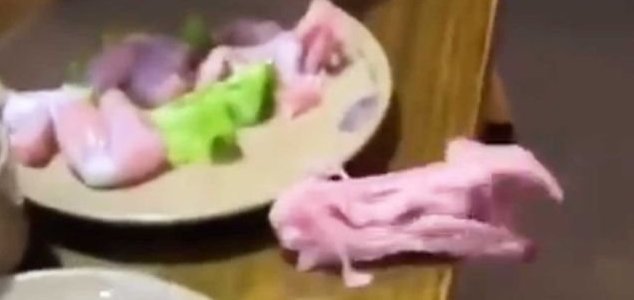 How is this meat moving ?

Image Credit: Facebook / Rie Prettyredbone Phillips
Bizarre footage has emerged showing a piece of meat crawling off a restaurant plate and on to the floor.
Uploaded on Facebook two weeks ago by Rie Phillips, the video shows a piece of raw chicken seemingly taking on a mind of its own as it moves and gyrates in a rather unsettling manner.
A woman can be heard screaming as the meat climbs off the plate and falls off the side of the table.
It is unclear exactly where the footage was recorded but it has been speculated that it is in a restaurant serving Chinese, Japanese or Korean cuisine.
Since appearing online, the video has reportedly managed to rack up over four million views and has left social media users scratching their heads.
One theory suggests that the meat is moving because the nerve endings are still active, while another puts forward the possibility that the whole thing is a hoax and that the meat is being pulled by a string.
Whatever the case, the footage is certainly strange.
Source: Kidspot.com.au | Comments (31)
Similar stories based on this topic:
Tags: Meat