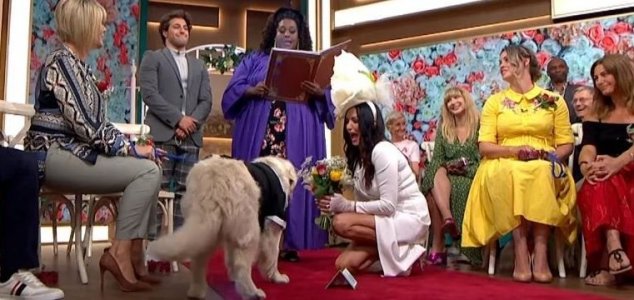 Is marrying your dog the next big thing ?

Image Credit: YouTube / This Morning
A woman has tied the knot with her canine companion during a bizarre ceremony on British morning television.
During an interview on Tuesday, 49-year-old Elizabeth Hoad told hosts Eamonn Holmes and Ruth Langsford on ITV's 'This Morning' that after 220 dates and four failed engagements she has essentially given up on trying to find a man and has instead settled for her Golden Retriever, Logan.
"He's saved me and I've saved him," she said. "I was broken before I got him."
The segment was then followed up by a firmly tongue-in-cheek wedding ceremony which saw Hoad marry the canine groom - who was dressed in a suit and top hat - live on air.
While the peculiar event left viewers scratching their heads, this is not actually the first time that someone has married a dog.
Back in 2009, Wilhelmina Morgan Callaghan from Northern Ireland married her yorkshire terrier, Henry. When asked why she'd married the dog, she said "dogs are better than men."
Another woman, 55-year-old Lilly Smartelli from Arizona, plans to marry her poodle-cross Bernie.
"He's always there for me," she said. "He listens, and he loves me no matter what."
"What more could a woman want ?"
You can view Elizabeth Hoad's interview and wedding to Logan the dog in the video below.
Source: The Guardian | Comments (45)
Similar stories based on this topic:
Tags: Dog, Marriage