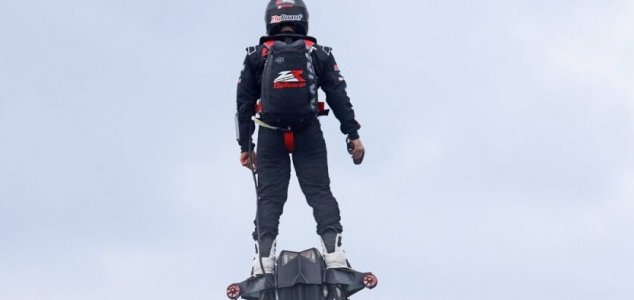 Second time lucky.

Image Credit: YouTube / Zapata
Franky Zapata's second attempt to cross the English Channel on a hoverboard has been met with success.
The French inventor had previously attempted the fly across the 34km stretch of water between England and France on July 25th, however an accident while refueling scuppered his attempt.
Not content with giving up, Zapata set off on his second attempt at around 6am this morning.
Fortunately things went a lot better this time and he managed to successfully traverse the English Channel from Sangatte, near Calais, to St Margaret's Bay in Dover in a mere 22 minutes.
"We made a machine three years ago... and now we've crossed the Channel, it's crazy," he told reporters. "Whether this is a historic event or not, I'm not the one to decide that, time will tell."
The Flyboard Air is powered by five mini turbo engines that can propel it at speeds of up to 118mph.
The caveat however is that the board has a very low fuel capacity and is notoriously difficult to get the hang of - it takes 50 to 100 hours of practice just to be able to stand up on it.
Whether today's success will see a wider adoption of the technology remains to be seen.
Source: BBC News | Comments (14)
Similar stories based on this topic:
Tags: Hoverboard, Franky Zapata