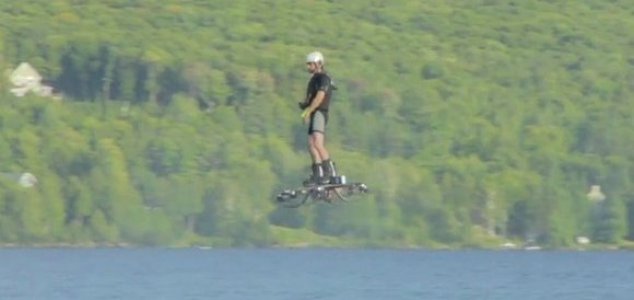 The device was able to travel 900ft across a lake.

Image Credit: YouTube / Guinness World Records
Canadian inventor Catalin Alexandru Duru has proven that hoverboards really do work on water.
It might not be as compact as the device Marty McFly used in the Back to the Future franchise but unlike its science fiction counterpart this one actually exists and works surprisingly well.
Developed by Catalin Alexandru Duru and his business partner Philippe Maalouf, the impressive device is able to hover several feet in the air and there are even plans to begin selling it in shops.
The board uses propellers to keep it in the air and can hover over both solid ground and water.
The device recently gained widespread attention thanks to a record-breaking flight by Duru which saw him fly a distance of more than 900ft over Lake Ouareau in Quebec.
The stunt managed to earn him a place in the
Guinness Book of Records
.
"This is a truly mesmerising and incredible feat in the world of engineering and transportation," said a spokesman. "It's always pleasing to see individuals such as Catalin Alexandru Duru achieve a Guinness World Records titles such as this in which personal endeavor continues to amaze us all."
It isn't clear when the device will be available for consumers to buy or how much it will cost but there's a good chance that it will soon be giving even Marty McFly's hoverboard a run for its money.
"I told him to leave visual effects and make something that can change the world," said Maalouf.
"He wanted to fly and he made it happen."
Source: CBC.ca | Comments (14)
Similar stories based on this topic:
Tags: Hoverboard