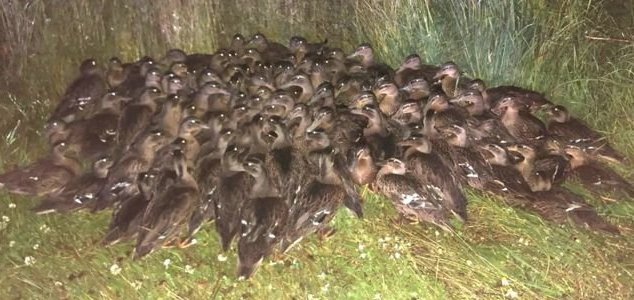 Where did all these ducks come from ?

Image Credit: Facebook / Police Scotland
Police in Scotland have been attempting to explain how a flock of 100 ducklings ended up huddled next to a road.
The peculiar discovery was made over a week ago on the night of July 27th along the B935 road to Forteviot in Scotland's Perth and Kinross region.
The ducklings were found huddled together in a large group at the side of the carriageway, seemingly unphased by their proximity to the road.
"We were called to the B935, close to Forteviot, at 11.30pm on Saturday," said a spokesman. "There was 100 ducklings close to the side of the road and they were ushered away."
It remains unclear where the birds came from or how they ended up there in such a large group.
"Anyone missing 100 ducklings ?" one officer wrote. "Not the usual Saturday night crowd control !"
There have since been several offers by locals to rehome the birds.
Source: The Courier | Comments (13)
Tags: Ducks, Scotland