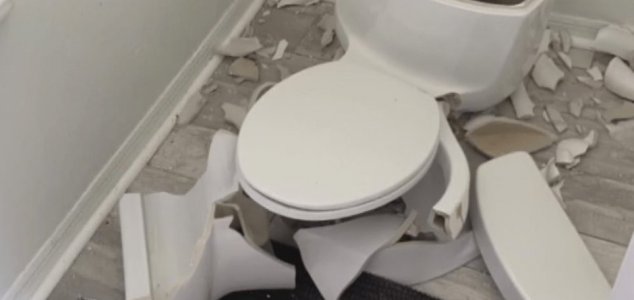 Fortunately nobody was sitting on the toilet at the time.

Image Credit: Marylou Ward
Marylou Ward and her husband got the fright of their lives when their toilet exploded in to pieces on Sunday.
While it is often recommended that people unplug electronic devices during a thunderstorm, disconnecting your toilet from the plumbing in your house is somewhat less common advice.
The bizarre incident, which happened in Port Charlotte, Florida, occurred when lightning struck a septic tank outside in the couple's garden, which in turn caused the toilet to violently explode.
"It was the loudest noise I've ever heard," said Ward. "We thought the house was on fire because it smelled like smoke. We came in here and the toilet was laying on the floor... pieces everywhere."
According to the company that assessed the damage, the lightning strike had "ignited the methane gas (natural gas from sewer) in the sewer pipes and caused an explosion."
"The toilet exploded in home owner's master bathroom sending porcelain airborne like a missile (the porcelain penetrated into wall)," said Jordan Hagadorn of A-1 Affordable Plumbing Inc.
"Most likely all sewer piping will need to be replaced and septic tank."
Source: AOL News | Comments (6)
Similar stories based on this topic:
Tags: Lightning, Storm, Toilet