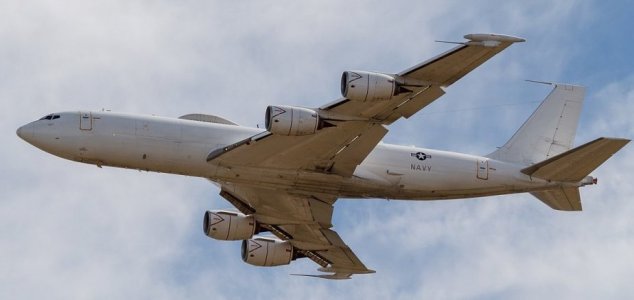 Fortunately nobody was injured (aside from the bird).

Image Credit: Public Domain
An aircraft designed to survive a nuclear apocalypse recently suffered a rather unfortunate mishap.
Designed to function as a mobile command-and-control center for US forces in the event of a nuclear war, the Boeing E-6 Mercury is equipped with systems that can withstand the electromagnetic pulse of a nuclear warhead exploding directly below it.
Sadly though, it's defensive capabilities against threats of an avian variety leave a lot to be desired.
In what has been officially described as a "Class A mishap", an E-6B Mercury was forced to make an emergency landing on October 2nd after a collision with a bird took out one of its engines.
The incident, which occurred near the Naval Air Station Patuxent River in Maryland, caused over $2 million worth of damage.
"The engine has been replaced, and the aircraft has been returned to service," said Tim Boulay, a spokesman for the Naval Air Warfare Center Aircraft Division.
While bird strikes are not uncommon, the fact that an aircraft designed to survive a nuclear war can be brought down so easily by one is not exactly encouraging.
This isn't the first 'mishap' to befall the E-6B Mercury in recent months either - back in February a separate aircraft sustained damage after snagging a hangar at Tinker Air Force Base in Oklahoma.
Let's hope there won't actually be any need for a doomsday-proof plane anytime soon.
Source: Live Science | Comments (13)
Similar stories based on this topic:
Tags: Doomsday