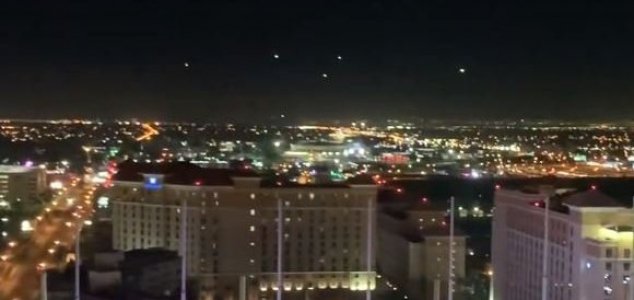 What could these lights be ?

Image Credit: YouTube / Dean Siblang vlogs
A young YouTuber recently captured footage of a row of anomalous lights hovering over Nevada's largest city.
Uploaded on October 22nd by 'Dean Siblang vlogs', the video was reportedly filmed from the 22nd floor of The Signature hotel at MGM Grand in Las Vegas.
The footage shows a row of bright white lights - four initially with others appearing sporadically throughout - spaced a fair distance apart and hovering silently over the city.
The light furthest to the right appears to begin moving away towards the end of the video.
The phenomenon has drawn comparisons to the Phoenix Lights - a famous spate of UFO sightings that occurred in the skies over Arizona, Nevada and New Mexico back in 1997.
Siblang has even used 'Pheonix Lights' in the video's title, despite it being filmed in Las Vegas.
One of the original sightings was later determined to be a series of flares dropped during military training exercises, however it is unclear whether or not this could be the case here.
Some have also speculated that the lights could be helicopters or drones.
Have a look and see what you think - the video can be viewed below.
Source: YouTube | Comments (13)
Similar stories based on this topic:
Tags: UFO, Las Vegas