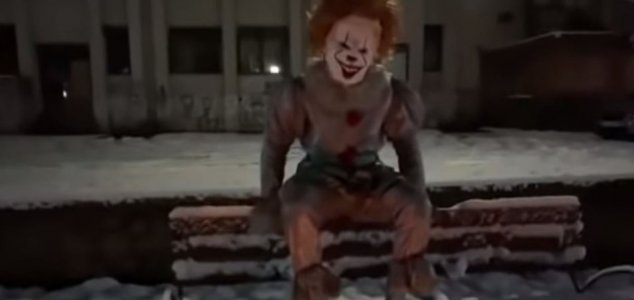 Fingers crossed you don't run into this guy...

Image Credit: YouTube / Panorama Mk
A notorious prankster who has been terrifying random passers-by is now facing up to 5 years imprisonment.
Since December 9th, a person dressed up as Pennywise the Dancing Clown from the recent movie adaptations of Stephen King's horror novel 'It' has been haunting the streets of Mukachevo.
In one video, the prankster can be seen sitting on a park bench after dark with a ritualistic circle of candles surrounding someone lying on the pavement. When an unsuspecting pedestrian happens upon the scene, Pennywise slowly gets up and then starts chasing the terrified man down the road.
In another, the clown can be seen hiding at a gas station. When someone arrives and goes to the kiosk, Pennywise jumps out and starts pouring gas (most likely its actually water) over their car.
One victim of the prank jumps into his car and speeds off, while another runs away down the street.
Perhaps the most terrifying video of all however shows Pennywise hiding on a bridge. When an unsuspecting pedestrian walks by, the clown emerges and fires a fake gun at a nearby actor.
Believing it to be a real shooting, the pedestrian makes a hasty retreat.
Now in response to the clown's campaign of terror, local authorities in Ukraine have begun an official investigation on the basis that the prankster's shenanigans violate the law on promoting violence.
Despite facing a jail sentence of up to 5 years however, the real-life Pennywise intends to continue.
"Our videos don't carry violence propaganda," he wrote. "Many write that we can bring people to a heart attack. I explain: we are not joking with old people and children. The prosecutor's office also took care of us, all I can say is to simply wish them success. [They'll] never stop us. It's just the beginning."
Source: Oddity Centrsl | Comments (8)
Tags: Pennywise, Ukraine