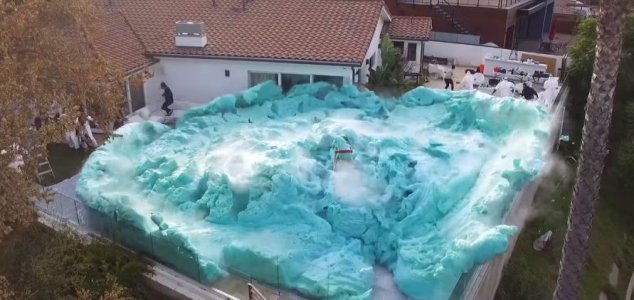 That is one huge pile of foam.

Image Credit: YouTube / Nick Uhas
YouTuber Nick Uhas recently tried to set a new world record by creating a mountain of 'elephant toothpaste'.
A staple of school science experiments, the voluminous foam is produced by the rapid decomposition of hydrogen peroxide using water and potassium iodide or yeast as a catalyst.
The experiment is particularly notable due to the rapid nature of the reaction that occurs and the fact that it will typically produce a veritable volcano of foam that can quickly get out of hand.
Earlier this year, Nick Uhas, David Dobrik and a few of their friends decided to try their hand at creating the world's largest volcano of elephant toothpaste.
While the experiment succeeded, a rival team later created their own - even larger - volcano.
Now in a bid to reclaim the crown, Uhas and Dobrik have returned with a new video showing them produce what is assuredly the largest mound of elephant toothpaste to date.
The pair used 625 liters of hydrogen peroxide and ended up with a whopping 67.5 cubic meters of foam which quickly filled the available space and started to overflow over the fence and up the walls.
Suffice to say - everyone involved had to make a rather hasty retreat to escape the wave of foam.
You can check out the full video below.
Source: Nerdist | Comments (7)
Similar stories based on this topic:
Tags: Foam