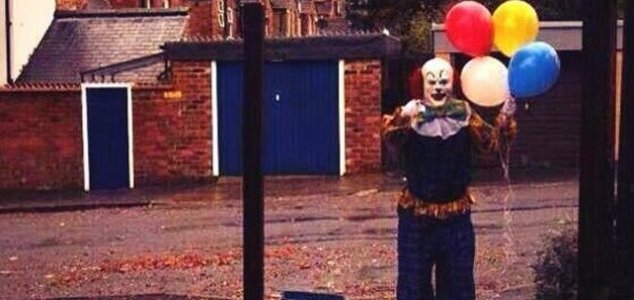 As if clowns weren't creepy enough already...

Image Credit: Twitter / @jogo78
Police have been investigating the case of a real-life Pennywise who has been menacing a mother and son.
The 'creepy clown' phenomenon seems to have been enjoying something of a resurgence this year with several stories emerging of mysterious clowns unnerving unwary residents across the US.
This latest incident, which was reported to police in Fort Madison, Iowa, occurred on September 25th and involved a woman who claimed that a man in a clown costume "was trying to attack her."
She explained that her son had been harassed by the mysterious perpetrator for several days, however neither of them knew who he was and it had left them both shaken and upset.
When police officers arrived on the scene a mere two minutes later they caught sight of the clown attempting to make his escape. While they were unable to catch up to him, they did later find his costume and mask stuffed underneath a vehicle at a nearby car dealership.
"What may have been intended as a harmless prank, resulted in the harassment of a citizen which may constitute grounds for arrest," said Chief Mark Rohloff.
"The repeated course of conduct was considered menacing, causing the victim to fear she would be attacked. It is difficult for us to determine the motives of the individual. The late hour, and the use of a mask concealing one's identity, can only use us to speculate what his/her intentions may be."
Source: KWQC.com | Comments (22)
Similar stories based on this topic:
Tags: Clown