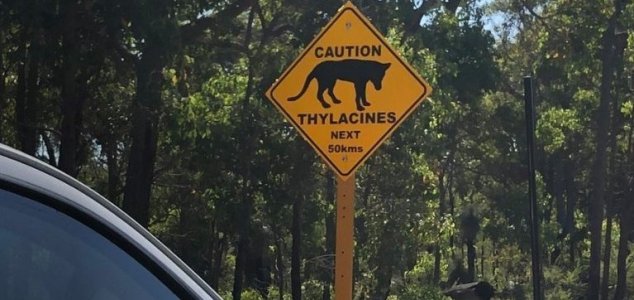 Could there still be thylacines alive in the Australian wilderness ?

Image Credit: Nannup Police
Police in Australia are on the look out for whoever put up a sign warning people about the legendary cryptid.
Despite the fact that the Tasmanian tiger was officially declared extinct decades ago, there are still those who subscribe to the belief that the species has managed to hold on against all odds.
This unusual signpost, which was recently photographed by a police officer, is situated in the South West region of Western Australia - a part of the country long associated with thylacine sightings.
"Caution - Thylacines next 50kms," the sign reads.
"Nannup Police are on the look out for the infamous Nannup Tiger (a local thylacine legend) and for the person responsible for the sign, well played sir," the officer wrote on Twitter.
Thought to have been wiped out by human hunting practices, the thylacine was a distinctive carnivorous marsupial native to Australia, Tasmania and New Guinea.
The last known specimen held in captivity died at Hobart Zoo back in 1936 and while there have been fleeting sightings of the species since then, its continued existence remains a topic of hot debate.
One thing's for sure - whoever put up the sign certainly believes that it's still out there.
Source: Yahoo! News | Comments (7)
Similar stories based on this topic:
Tags: Thylacine