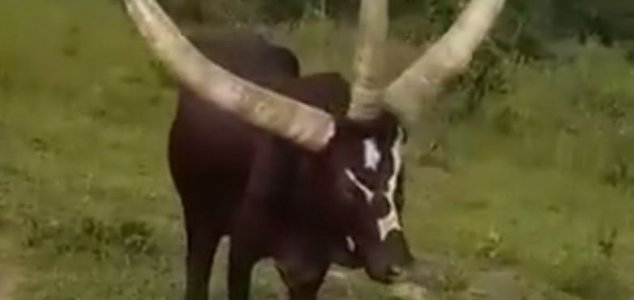 Is this a real animal or is the video a hoax ?

Image Credit: Twitter / Rubabinda Jr
A recently uploaded video clip of a bovine with three huge horns has left people scratching their heads.
The clip, which was allegedly recorded in Uganda, was uploaded by the Twitter user Rubabinda Jr (@RubabindaJr) on December 28th and has since racked up over 3.8 million views.
"Wonders never cease!!" they wrote on the Tweet.
Since the clip appeared, thousands of social media users have been engaged in heated debate over whether this is in fact a genuine animal or if the clip is some sort of hoax.
It is understood that the video was originally discovered on WhatsApp, however the original author of the clip remains a mystery, as does the precise location at which it was filmed.
It is worth noting that three-horned cows do actually exist, however the sheer size of the horns on this particular animal make it a particularly unusual spectacle.
As things stand, nobody seems to be quite sure whether the clip is genuine or not.
Source: Twitter | Comments (10)
Similar stories based on this topic:
Tags: Cow, Horns