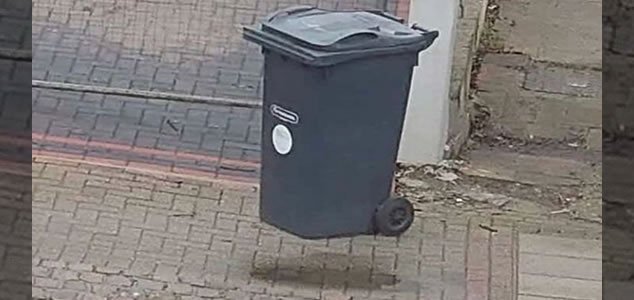 No, it's not really floating.

Image Credit: Reddit/Facebook/Twitter
A very strange optical illusion showing what looks like a floating wheelie bin has recently gone viral online.
The perplexing image, which shows a green wheelie bin on a typical British street, has managed to attract a great deal of attention on social media over the last week or so thanks to the fact that it appears as though it is floating a few centimeters off the ground.
Upon closer inspection however, the green plastic trash receptacle is in fact sitting firmly on the pavement - the 'shadow' cast underneath it is actually a wet patch on the ground in front of it.
This hasn't stopped social media users from sharing and commenting on the image, however.
In particular, many commenters have noted in a tongue-in-cheek fashion that the illusion may be a symptom of being in coronavirus lockdown for too long.
"If you think this garbage bin is floating, then you've been inside way too long,"
@Sharaxbeel1
wrote on twitter. "Go get some fresh air. It's just a wet surface and the bin is next to it."
"I've been in lockdown too long, I'm seeing floating wheelie bins now," another user wrote.
You can check out an uncropped version of the picture below.
Source: Twitter | Comments (25)
Similar stories based on this topic:
Tags: Optical Illusion