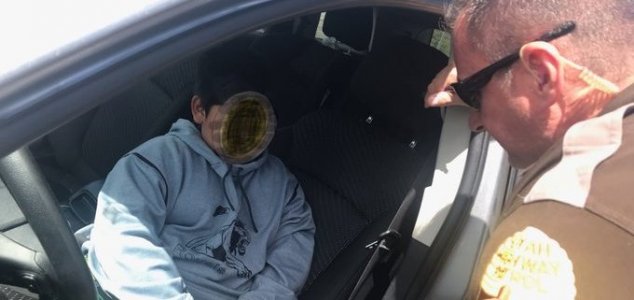 The 5-year-old didn't get too far.

Image Credit: Twitter / Utah Highway Patrol
A young driving fan from Utah recently attempted to drive hundreds of miles to buy himself a supercar.
According to reports, the five-year-old - whose identity has not been disclosed - was stopped by a Utah Highway Patrolman after he spotted the Dodge Journey swerving around on the road.
When he approached the vehicle he expected to find a driver impaired by alcohol, but was shocked to discover a young boy sitting in the diver's seat with nobody else in the car.
"One of our Troopers in Weber Co. initiated a traffic stop on what he thought was an impaired driver," Utah Highway Patrol wrote on Twitter. "Turns out it was this young man, age 5, somehow made his way up onto the freeway in his parents' car."
"Made it from 17th and Lincoln in Ogden down to the 25th St off-ramp SB I-15."
It turned out that the boy had fallen out with his mother because he wanted her to buy him a Lamborghini and had decided to take matters into his own hands by stealing her car, driving to California and buying one himself from a car dealership for $2.
He managed to get around three miles from home before he was stopped.
His efforts weren't a complete bust however, as the next day Lamborghini owner Jeremy Neves, who had heard about the story on the news, went to his house and took him out for a ride.
"I don't wanna condone kids taking cars and getting in trouble or breaking the law but the success principles that he displayed were magnificent to me," he said.
Source: The Drive | Comments (19)
Similar stories based on this topic:
Tags: Driving