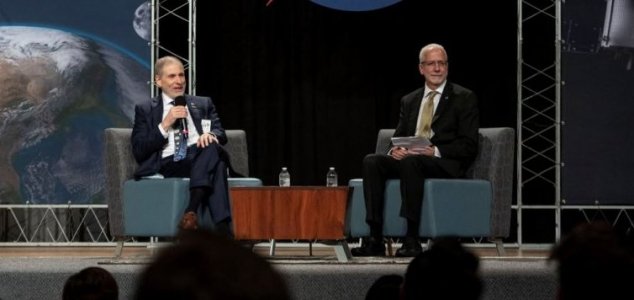 Loverro (left) hadn't been in the job long.

Image Credit: NASA
Doug Loverro, head of NASA's human spaceflight program, has stepped down from his position.
The surprise move, which sparked a wave of rumors on social media, comes just days before the first manned launch of the SpaceX Crew Dragon spacecraft on May 27th as well as a mere six months after Loverro took over from Bill Gerstenmaier to get humans on the Moon by 2024.
While his resignation is unlikely to impact the upcoming Crew Dragon launch, questions have been raised over exactly why he stepped down and whether he did so voluntarily or was pushed to do so.
According to reports, Loverro had made a serious error during the procurement process of the landing system that will enable humans to land on the Moon.
NASA previously picked several companies to develop their own lunar landing systems with the goal of eventually selecting one of these for the actual mission to land astronauts on the lunar surface.
According to
Ars Technica
, Loverro had favored an integrated launch solution (as oppose to building a lander in orbit around the Moon one piece at a time) and may have inappropriately pushed Boeing - which had favored an integrated launch solution - into making a more competitive bid to compete with the other contenders whose solutions would not likely be ready on time.
This, the news site argues, may have prompted his resignation if he had been found out.
Whether his stepping down will delay the program beyond its 2024 goal however remains unclear.
Source: Ars Technica | Comments (17)
Similar stories based on this topic:
Tags: NASA