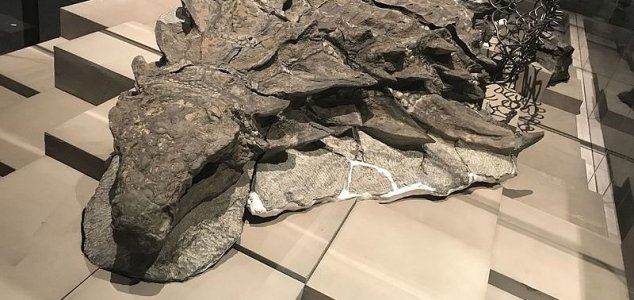 The dinosaur almost looks like a statue.

Image Credit: Machairo CC BY-SA 4.0 Machairo
Scientists have analyzed the stomach contents of the well-preserved remains of an armor-plated dinosaur.
Discovered in a mine in 2011, this fossil nodosaur immediately attracted the attention of palaeontologists due to its remarkable level of preservation.
Exhibiting rows of spikes and thick armor plates to ward off attacks from large predatory dinosaurs, this gentle plant-eater has now yielded something even more intriguing - the contents of its stomach.
"The finding of the actual preserved stomach contents from a dinosaur is extraordinarily rare, and this stomach recovered from the mummified nodosaur by the museum team is by far the best-preserved dinosaur stomach ever found to date," said University of Saskatchewan geologist Jim Basinger.
So what did this dinosaur eat just before its demise 110 million years ago ?
"The last meal of our dinosaur was mostly fern leaves - 88 per cent chewed leaf material and seven per cent stems and twigs," said Brandon University biologist David Greenwood.
"When we examined thin sections of the stomach contents under a microscope, we were shocked to see beautifully preserved and concentrated plant material. In marine rocks we almost never see such superb preservation of leaves, including the microscopic, spore-producing sporangia of ferns."
"Also, there is considerable charcoal in the stomach from burnt plant fragments, indicating that the animal was browsing in a recently burned area and was taking advantage of a recent fire and the flush of ferns that frequently emerges on a burned landscape."
Source: Heritage Daily | Comments (3)
Similar stories based on this topic:
Tags: Dinosaur