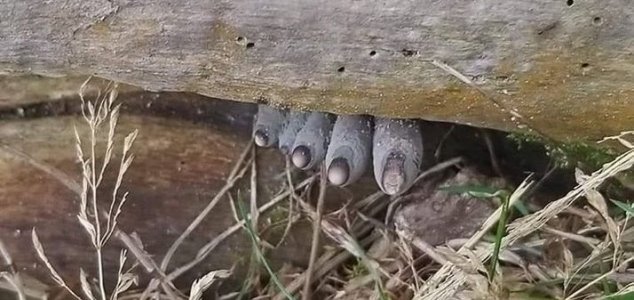 Who or what do these toes belong to ?

Image Credit: Twitter / Susanta Nanda
A very strange photograph showing what looks like a grey-colored foot has recently gone viral online.
The picture, which has since been picked up by several news sites, was originally posted up on Twitter on June 14th by Indian forestry worker Susanta Nanda with the caption "Can you identify this animal?"
The image appears to show a set of five discolored toes, complete with nails, sticking out from underneath what looks like a log or plank of wood.
The post left social media users scratching their heads as they tried to determine what type of creature could possibly have toes that looked like that, or whether they even belonged to a creature at all.
One popular suggestion was that it was some sort of gorilla or chimpanzee.
As it turns out however, the 'toes' are in fact a type of fungus known as
Xylaria polymorpha
- more commonly referred to as "Dead Man's Fingers" due to its unique appearance.
The fungus can typically be found on decaying wood or tree stumps.
Source: NDTV | Comments (14)
Similar stories based on this topic:
Tags: Viral