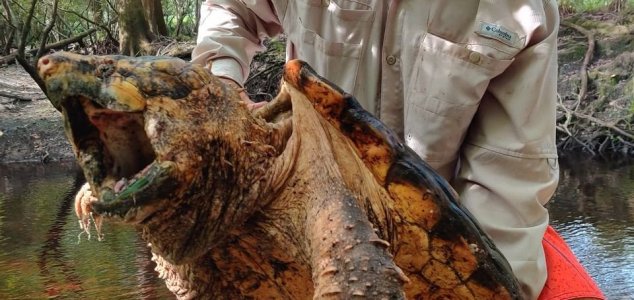 That is one large turtle...

Image Credit: Facebook / FWC Fish and Wildlife Research Institute
Wildlife researchers discovered three huge turtles - which belong to a new species - near Gainesville.
Found by members of the Florida Fish and Wildlife Conservation Commission, the three specimens - which weighed in at up to 100 pounds each - were caught in the New River using large hoop net traps.
"Formerly, the alligator snapping turtle (Macrochelys temminckii) was considered a single, wide-ranging species that extended from the Suwannee River drainage west into Texas," the FWC wrote.
"(E)veryone agrees that the Suwannee species is distinct. The Suwannee alligator snapping turtle has been isolated for at least 5.5 million years, during which time it has undergone sufficient evolutionary changes to differentiate it from other alligator snapping turtles."
Researchers believe that these enormous reptiles can grow up to 2.5ft long, can weigh up to 200 pounds (double the largest of this trio) and are capable of living for over 100 years.
The discovery of these particular monsters in such a relatively small waterway was surprising.
All three were released back into the wild after being examined for the study.
Source: Phys.org | Comments (11)
Tags: Turtles