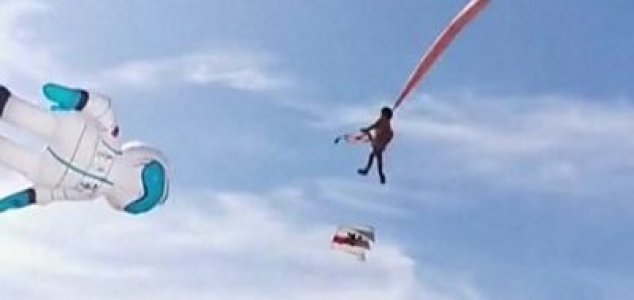 This is one experience that this girl is unlikely to forget.

Image Credit: Facebook / @viasblog.tw
A freak accident saw a young girl being carried skyward by a large kite during a kite festival earlier today.
The bizarre series of events occurred in the seaside town of Nanlioao in northern Taiwan - an area famous for its high winds - where crowds of people had gathered for the event.
Things took a rather disturbing turn when the three-year-old became tangled up in a large orange kite which was promptly whisked up into the air by a strong wind, bringing her along for the ride.
The crowd looked on in horror as she was carried up above their heads, holding on for dear life.
Several people attempted to position themselves underneath to catch her if she fell, while others desperately worked on pulling the kite back down to retrieve her.
As luck would have it, she made it back down to the ground without suffering any serious injuries.
"The city government team offers its sincere apology to the victim and the public," said the city's mayor, Lin Chih-chien.
An investigation into the incident is now underway.
Source: CTV News | Comments (7)
Tags: Kite, Taiwan